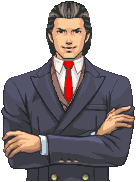 Entrant's Name: 

EliteGamerX
Character Name

:  Bishop King / Taizou Kenji / Roi Trépas (alt.: Roi Eveque)
aliases: "Checkmate" King, "Prosecuting King of Death"
Age

:  DOB/DOD: 1961-2022; deceased at 61
First Appearance (1980s-2000): 21 years old
Second Appearance (2017-): 58 years old
Occupation

:  Prosecutor (1981-2000; 2017-2021)
Brief Physical Description

:  A tall, Caucasian man clad in a dark suit.  Despite his age, he appears to be in his 30s.
Brief Personality Description

:  Bishop King is a firm believer in the "true spirit of justice", and an outspoken critic of the current 
justice system (as of PW3).  He believes true justice cannot be fulfilled through rules that are set in stone, nor can one man 
decide the fate of another.  King follows a personal honor code - he will never, under any circumstances, manipulate the law for 
personal gain or fame, a lesson he learned when he began his career. He despise Manfred von Karma for using illegal methods 
to maintain his 40-year 
record, and (for a short time) tries to keep Franziska from going down the same path.
As a psychic, he could see/read people's thoughts, determining their innocence. With this ability, he can save or condemn his 
clients (they're not ALL innocent of their crimes!) by using "the truth" to gather the necessary evidence.  As the last surviving 
member of his family, he has spent his entire life trying to build a legacy for the entire world to remember.
Despite his "cold, anti-social" personality, he has a heart of gold and will selflessly help those in need.  This may have led to his 
failing health 20 years ago.  Even though he continues to be in great physical pain (due to his ailment), he hides his pain 
underneath a carefree facade.
Connection to canon characters

 (if applicable):  Bishop King has worked alongside Manfred von Karma, Damon Gant, and 
Winston Payne during his first run as prosecutor.  During this time, he has been pitted against Gregory Edgeworth on a number 
of occasions.  There's also a possibility that he may have worked alongside with (if not only met with) Lana Skye and Mia Fey 
after his first retirement. However, the time and place of such a meeting is not known.
He appears to be on good terms with the Judge's family, as well as the police department.
Brief Background

:  A psychic who became a prosecutor to bring people to justice.
During the 1980s, he became famous in the world of law for winning many high-profile cases.
His skills earned him several nicknames throughout the years, including "Checkmate" King and "the Prosecuting King of Death".
However, his psychic powers placed a strain on his body.   His condition began to worsen, and he was forced to retire in 2000.  
In the years that followed, his legacy was overshadowed by  Manfred von Karma's 40-year perfect streak and the 
"Legendary Duo".   To the rest of the world, "Checkmate" King was nothing more than a fading memory, and he fell into 
depression.
In order to escape his depression, King has attended nearly every court proceeding following his first retirement.  Witnessing 
von Karma's defeat to Phoenix Wright gave him the strength to "rise from the ashes" once more, using Wright's fame to 
springboard his own into history.
Bishop King returned to the prosecutor's bench in 2017, determined to restore the prosecution's reputation by defeating 
Phoenix Wright and rebuild his legacy. To do this, he must separate him from his friends, the source of his "power". By 
taking them out of the equation, King intends to humiliate Wright and expose him as a "fraud".  Unbeknownst to everyone, 
King's fate has already been sealed. Having "abused" his powers 20 years ago, the damage inflicted on his body is irrepairable. 
Even with his medication, King isn't expected to live past 60...
Will he be able to achieve his own "legendary" status before he's taken into Death's cold embrace?
Name Origin:
(JPN/FRN name references found on http://www.freedict.com)
USA: Bishop King & "Checkmate" King (nickname) = 
Bishop, King, Checkmate: Chess references.
JPN: Taizou Kenji =
Taizou: Taken from "taishoku" (fading) and "izou" (legacy).
Kenji: means "public prosecutor".
FRN: Roi Trépas/Roi Eveque = 
Roi: means "king".
Trépas: means "death. ("King of Death"...get it?)
Eveque: means "bishop"; supposed to be a alt. French version of "Bishop King".