This year, Capcom decided to hold a new event in Las Vegas, called Captivate, which would be an opportunity for the press to come and check out the development of their latest titles. But they also invited out five members of Capcom's fan base, and I was lucky enough to be chosen as one of them, thanks to my contributions to the Ace Attorney fandom. It was held from Wednesday, May 28th, to Friday, May 30th, at The Palms hotel, and I didn't spend a dime the entire time I was there! All the latest Capcom news and games, fully paid for? I couldn't have been more excited to attend.
I'm going to go through the events first. If you want to go right to the game descriptions, just follow the links~
Wednesday
The event began for me Wednesday afternoon, when I checked into my hotel and met up with Lost (from the Capcom forums) to get registered. He introduced me to the amazing Sky Villa where the majority of the event was going to take place, which was a suite in the Palms' Fantasy Tower (featuring a Jacuzzi, several plasma TVs, and a rotating bed upstairs that everyone was eager to introduce me to - not in a dirty way, mind you). I was introduced to a few of the other community members that were chosen from the Capcom forums, along with Seth, whose job description escapes me at the moment, but they were all really cool guys. We had a little time then to check out the game stations; at that point the press had not yet been invited up, and we had most of the place to ourselves.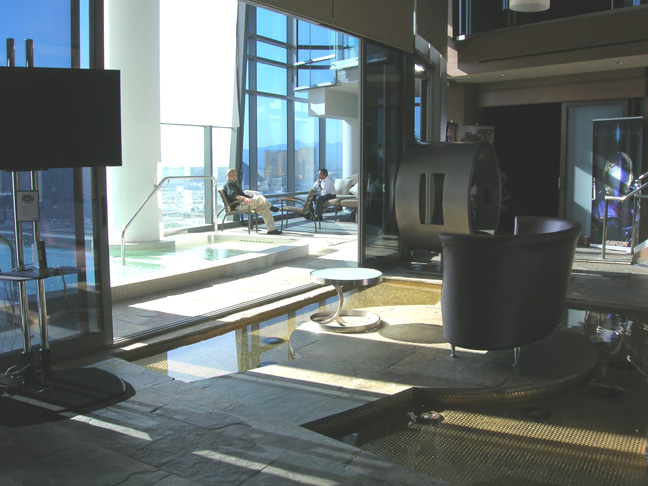 Pretty fancy, huh? They told me not to try and speculate how much it cost per night.

The jacuzzi stretched out over the edge of the building. No way would I ever step into it, but it sure looked cool.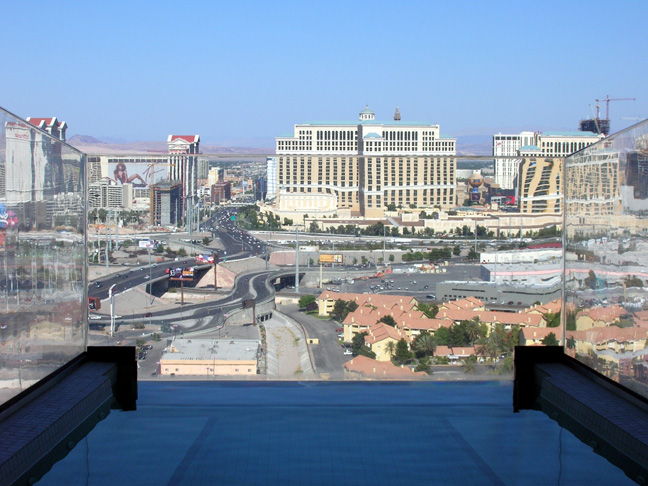 Seriously, it looks like you're going to fall right out of the hotel!
In the main room was the "Commando Corner" as I thought of it: the next gen version of Bionic Commando was set up on two TVs, along with the 2D "Rearmed" remake, and Commando 3. They were all connected to gaming chairs that had speakers in the headrests and rumbled like massage chairs whenever anything exploded on screen. That was…a little too hardcore for me, so I had to turn mine off when playing Commando 3.
The side room was the Street Fighter room, with four SFIV arcade games set up (which was where many of us spent most of the event). In the back where four TVs that had Capcom's digital titles: Street Fighter II Turbo HD Remix (long enough title for ya?), 1942 (an old arcade style air-shooter), and two TVs set up for Plunder, the multi-player pirate game.
Upstairs was a Megaman game, Neopets, and a We Love Golf game (which sadly did not have Apollo's skin unlocked), but most noticeably Dark Void, which was being tested before it would be whisked away for its presentation on Thursday. When I first ventured into the upstairs there was a group of 3 or 4 guys around the Dark Void station showing off the new features. I watched for a while, after assuring them I wasn't media press (since they weren't allowed in yet - made me feel special), and it wasn't until the demo had finished and everyone started shaking hands that I realized these were the guys that created the game. They were with Airtight! I was totally embarrassed for not introducing myself better right off the bat. They probably thought I was the worst dweeb ever. Bad Croik, bad Capcom fan.
At 7 we all went down to the hotel lounge for the welcome reception. I was served mashed potatoes in a dessert glass and couldn't be happier. After introductions were made of the main Capcom players and event heads, I was a little mortified when they asked for us Community folks to stand up and get introduced as well. So I stood up in my Trigun Tshirt, tiniest person there, and waved hello to the gaming press like a sixth grader at the first day of school, while being introduced as "[she] runs the large Ace Attorney site." To my shock, murmurs of recognition went through the crowd. People in suits recognized what that meant. I think I almost died (in a good way).
After showing a trailer for the new Capcom Wii game Spyborgs (more later), we all sat down to eat and chat. It was then that I was introduced to Sven, also from the Capcom forums, and Ben Judd, former Capcom localizer who did the voice work for Phoenix in the first game. He seemed pleased to hear that the fans still prefer his Objection over almost all other voices in the series, and told me a bit about how he was shoved into a tiny, burning hot recording stall to do the clip. "Sound like a determined lawyer!" he was told. Whatever that really means, dozens of takes later at varying speeds and inflections, Phoenix's objection was born.
It was an especially fun moment for me, because when he spoke normally he didn't sound like Phoenix at all, but when he started tossing out objections, I could hear it! Phoenix was in there! Geektastic moment for Croik.
We were also approached by two of the press members, from Play Magazine and G4: two women! I wasn't alone! (Okay, I wasn't the only girl there by a long shot, but I was the tiniest). We all had a good time chatting, learning bits about the industry from Sven, looking forward to Street Fighter… and then the reception was over and it was time for VIP night.
Back up in the Villa, the press got their hands on the games for the first time (I'd already tried most of them out by then, more impressions later). Turned out the girl from Play Magazine was a huge Street Fighter fan and even a tournament champion. I didn't get to really see her in action until Friday, but she was great. She handed my ass to me in spectacular fashion at one point.
The night ended with a lot of Rock Band, which is not a Capcom game, but damn some of those gamer guys can sing.
Thursday
Thursday started bright and early at 8am, with provided breakfast and more game playing. At 9 we were split into groups for the producer presentations for the various games, first Dark Void, then Street Fighter IV, then Resident Evil 5. They were all really impressive, and during the lunch break I was able to get in some Bionic Commando playtime as well. After lunch (calzones and pasta salad, mmmmm) the press were given time with the producers for interviews, which us Community guys were not allowed to sit in on, so we had time off. The five of us, along with Seth and Lost, piled into a taxi and took off for the sights of Vegas! But of course, being the huge dorks we are, we ended up at the Star Trek Experience instead.
I don't think everyone in the group enjoyed it, but I had a blast. I was a Next Generation fan for a looooong time. Even a guy dressed in a silly Borg costume is enough to creep me out. If you're in Vegas with some money to blow and an hour to kill, check it out.
When we got back, we had some more play time (I spent way too much time hanging around the Street Fighter station for someone who is not a big fighting game fan), and then it was off to Capcom's special social event. In my schedule, it was referred to as "Capcom Shooters Club Event." I thought it was going to be more hands on gaming time, but what it actually turned out to be was a trip to a live shooting range, where were taught to shoot real firearms against zombies.
Well, paper targets with zombies printed on them, to celebrate RE5. Our group named him Ralph. The gun I got to fire was some kind of automatic handgun with an added on stock that fit against the shoulder (watch as I slaughter my gun terms). They made me load the magazine myself, too, but I only got about halfway before my fingers got tired. I aimed for "Ralph's" groin and managed to hit him in the nose instead. Lucky Ralph? The kick on that thing was crazy - one shot and I was aiming for the ceiling. It gave me a new appreciation for Leon and his beefy, beefy forearms. Mmm….
We got to keep our zombies, too!

That's not his nostril, that's where I shot the bastard!
When we got back from the range I took a breather until dinner, which was held at the Little Buddha right next to the casino floor. It was probably the most expensive dinner I'd ever eaten: they gave us plates of appetizers, with calamari, spicy shrimp, crispy chicken egg rolls, different kinds of sushi, the best damn ribs I'd ever eaten; an entrée of fillet mignon and fried rice; and at last a delicious cheesecake. I could have stayed there all night, everything was so delicious.
Also eating at our table were a pair of guys from Bionic Games, which was pretty sweet, as well as Nique Fajors, Capcom's vice president of marketing. It was really a treat to be able to chat with him, and I even got his business card. I also got to drill Lost a bit on Ace Attorney fandom, and though he wasn't able to offer up any new news, we did have a great talk about how Capcom views Court Records and the fandom in general. More on that later, I promise!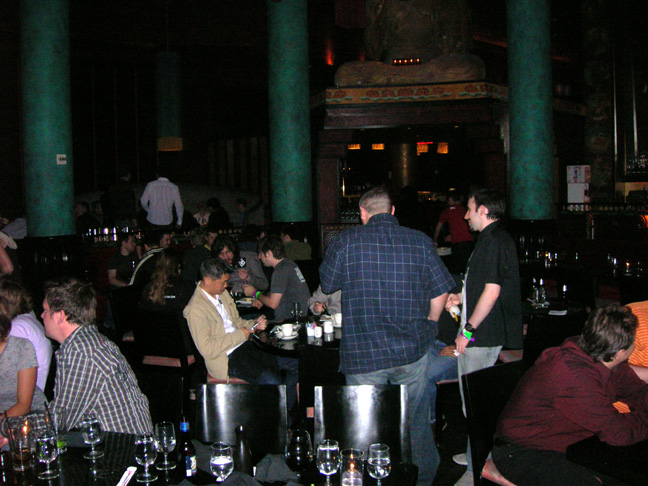 Dinner at Little Buddha. We packed the place.
After dinner we were led up to the hotel's night club, Moon, for a night on the VIP floor. I'm not much of a club person (big surprise) so it turned out to just be me and TAS (Community member) out on the balcony talking about games while we escaped the smoke. By the end our voices were a little sore from having to talk so loudly, but it was fun to just jaw about the games we'd seen. By the time we decided to escape the club the Villa games were closed down for the night, so it was off to bed.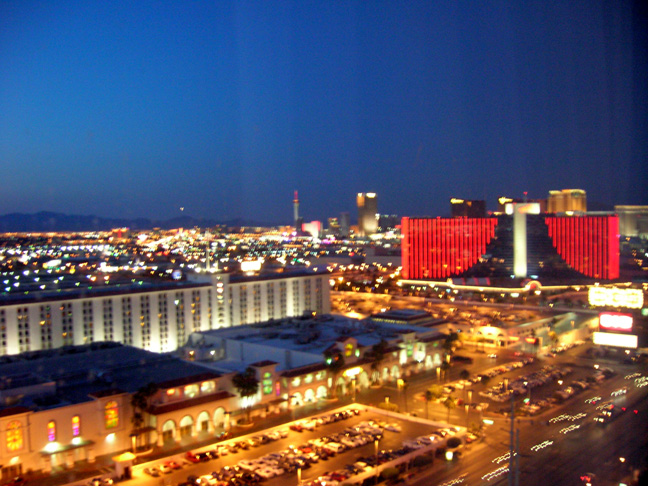 Pan of the city at night. Somewhere, an episode of CSI has begun.
Friday
Friday was another early morning breakfast, and also the most time I got to spend on SFIV for the weekend. Presentations came next, with the Bionic Commando presentation (which was a little weird since by then I'd seen the demo played through several times and tried it myself, but Ben Judd was in charge and that made it fun), followed by Neopets and Spyborgs. Then came lunch, with more delicious food, which pretty much marked the end of our Community involvement (the rest of the day was going to be more interviews, and then everyone was leaving). So we hung out in the Villa some more, playing the games and chatting with Seth and Sven and others, until 4:45 rolled around: time for the SFIV machines to be shut down. There was much sadness and booing.
Fortunately, we were spared the anguish of watching everything being packed away when Ben and Gearoid invited us to part of their Top Secret podcast (you may remember that name from when they had Matsukawa on). That should be up in a few weeks, where you can hear us being ridiculous. But it was a ton of fun, and I'm so glad I was invited to take part. Thanks, guys! I hope I don't sound like a complete ass on it.
By the time we got back to the Villa, most of the rest of the press and the Japanese producers had all left. There were only us Community people left along with the staff members who were staying another night. Sven ordered us dinner, and we chatted some more while taking pictures and doing some last minute bonding. By the time we had to head to the airport, it felt like a pretty complete experience.
Though the highlight of the departure itself was Ben's parting words to me. As we shook hands, I told him "It was a pleasure to meet you."
His response? "Yes it was."
YES, IT WAS.
Being slow, I didn't catch on right away, but everyone else around cracked up laughing. Oh Ben, you're so arrogant and awesome. I'm so glad you were our Phoenix!
We finished off our Community experience by pulling out our PSPs at the airport until it was time to part. And thus ended the event.
I know it sounds cheesy and fangirly, but until now I've thought of myself as just a fan of Capcom's games, not Capcom itself--this event kind of changed that for me. It's hard to imagine other gaming companies would spend so much money (and it was a lot of money!) to cater to lowly fans like us. They weren't even showing anything Ace Attorney at the event, and they invited me anyway! And not only that, but everyone there seemed to know who I was - or was at least familiar with "the largest Ace Attorney fansite." Producers and designers and marketing guys were incredibly friendly and willing to talk about all sorts of things. I wish I'd been bold enough to bring up even more subjects with them all, because it was so interesting to see the industry from another side. I learned a lot and I sincerely hope I have the opportunity again someday.
And no, I haven't been bribed to say that :P. I honestly enjoyed every bit of the experience. I'm only sorry that more you couldn't participate!
And now for the real reason you're reading this.
Unfortunately, no one could give me any real news for Ace Attorney. With Gyakuten Kenji still in development, there aren't any English games coming out anytime soon. I needled everyone I could find related to Ace Attorney about a game 5, but no one would budge. "I can't say." Gah, how frustrating that was! The only tidbit I got on that front was from Sven, who told me,
"You're going to love what Matsukawa is working on" (approximate wording).
Curse you, vague teasing! But from this we can glean at least one important meaning: Matsukawa is working on something that isn't Kenji (because they all knew I knew about Kenji). Is it GS5? Is it something else!? After much prodding I was also able to get the guys to admit that the rumors spread on the Chinese message boards (that Takumi has left Capcom, and GS5 was started but then cancelled) are false. GS5 was never "cancelled."
Does that mean they've even started it!? They wouldn't say. Foiled again.
So, that really doesn't help us much. However, I got the impression that they were very positive about the series, and they were very complimentary towards CR and the work of our fandom. There was even a hint about possibly holding the Ace Attorney concert in America; the only problem is filling seats. Even if every member of CR was able to attend such a concert, that still might not justify having it. These things are expensive, after all.
CR may have to organize an effort to show Capcom just how many seats we can fill…
I also had the opportunity to talk to Lost at the Little Buddha dinner about the fandom in general, and was very sad to learn that he will soon be leaving Capcom to start a business of his own. It'll be sad to see him go, as he's really a great guy and has done a lot to promote Ace Attorney, and joining our community with Capcom. He shared a few things with me that I feel are important to share with the rest of you as well, as it affects CR in a big way.
The truth is, a lot of the things on CR shouldn't be there. You may have noticed that you don't see Japanese fansites with entire sprite archives like ours, and there's a reason for that: in Japan, CR could not exist. Capcom Japan shuts those kinds of things down. CR is able to exist as it does because Capcom of America has a greater understanding and appreciation for the way that online communities such as this can bring people together. They want CR to succeed because it's good for the franchise, and it keeps people coming back and buying the games even when nothing new is available. But if there ever came a time that CR was viewed as a threat to the series somehow (say, if we started distributing roms that hurt sales), it would be easy for us to get shut down.
Really, this is nothing new. It's why I've tried to be careful about the kinds of things that go up on the site all along. But I feel it's important to stress now how much Capcom really does care about this fandom, and how many people within the company are pulling for us, despite not being as popular as the larger series. Everyone couldn't say enough about how much love Matsukawa (the producer) has for Ace Attorney and its fans, and I completely believe it. And CR is going to keep doing its best to stay in contact with Capcom, and make Ace Attorney the best it can be!
I got to sneak a peek of the developers playing this game before the actual presentation, so my interested was piqued ahead of time. I didn't know anything about the game's history, but I heard a lot about how different the new game looks from the trailers that were originally shown. I'm sure other news sites will cover the game more completely than I can (I'm not much of a shooter game fan) but I have to admit, I thought the Vertical Cover mechanic was really neat (if not a little dizzying). In case you don't know what that means, at some points the hero is required to scale straight up a wall or cliff, and the perspective changes so that you're looking from below the hero, ducking *under* overhanging rocks as you shoot up at the enemy. It was a little bizarre at first, but I think in the finished product it'll be really something.
SFIV kind of snuck up on me, to be honest. When I first heard I'd been invited to Captivate, my first thought was "Oh, Street Fighter will be there." I'd heard a few things about the new game coming out, and had seen the neat paint-style trailer that came out with Ryu and Ken fighting. I was glad to hear that they'd finally moved on from the Street Fighter III Super Duper Alpha Turbo Sparkly Awesomeness string of games, but I wasn't honestly expecting to be impressed.
I was wrong!
My experience with Street Fighter started when SFII came out for the SNES way back when. My brother and I had a routine where I would pick Chun-Li and do her lightning kick, and he would pick E. Honda and do his 100 Hand Slap… and then we'd inch towards each other until someone died (usually me).
The rest of the time we'd try to mimic Ryu and Ken's voices by shouting, "So are you, Tim!" at each other (that's "Shouryuu Ken" to those not familiar with garbled SF talk).
As you can tell, we were very serious fighting game fans.
All the same, I enjoyed Street Fighter, and for the next several years if I was in an arcade and had an extra quarter and a SF game nearby, I'd play a round. Which wasn't often, because arcades are harder and harder to come by these days. I have this thing with fighting games where I enjoy playing them but don't give a shit about combos and cancels, so I'm not very good at them, and thus I have something of a distant affection for them. In the case of SF, very distant, as I was quickly bored with the steadily increasing subtitle to SFIII, and for a while I turned to Guilty Gear instead.
Anyway, back to Street Fighter IV. I wasn't really expecting to see it as anything more than a nostalgic little ride, but at the presentation (and talking to TAS, one of the Community members and a big SF fan) I learned that Capcom was aware that a lot of people have lost interest in SF over the years, and tailored SFIV to try and get some of those fans back (and bring in new ones). The producer likened it to riding a bicycle that you never really forget how to do. I was skeptical, but when I got to play the game for myself, I realized…it was true!
I mean, I'm still not any good. But there's something very satisfying about not playing a game seriously for nearly ten years, and then picking it up and being able to win even a round or two against people who have been playing it all along.
My new favorite character is Abel, the Frenchman. I don't really know anything about his backstory; he was the first character I tried after my long hiatus, and I failed miserably. But after a few rounds as Chun-Li and Vega, I decided I wanted to give Abel another try. I usually go for smaller, faster characters, but something about Abel clicked with me and I started to do pretty well. I think it's his cute turned-up nose (uh oh, is my fangirl showing!?).
And now I'm looking forward to the release of a Street Fighter game - an unexpected development in Croik's gaming life. I'm even starting to wonder if the PS3 has a wireless joystick controller...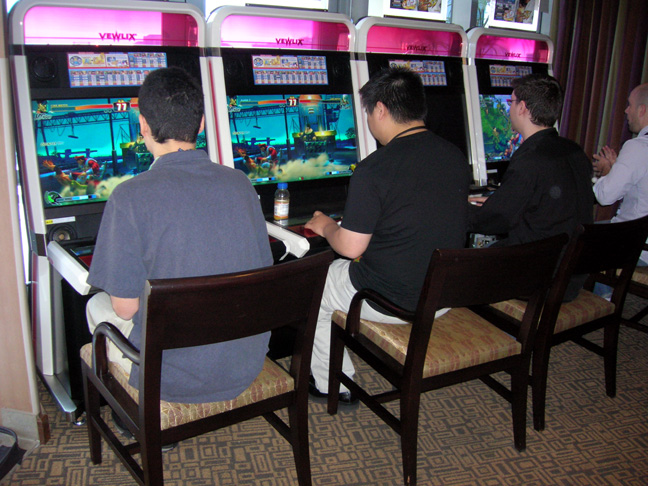 Yuri, Lost, Travis, and... someone else at the machines that sucked the life out of us over the course of the event
This was one of the highlights of the event for me. The two producers showed us the latest trailer which introduced a new female character/partner. After chatting about it a bit, they declared that was it for the presentation. As we all looked at each other in confusion (10 minute presentation, come on) Takeuchi suddenly smiled and asked, "Would you like to see more?" After a resounding yes, he fired up the live demo.
My background with RE is a little more successful than my SF background: I rented the second game when it was new, couldn't get anyway, and left the series alone until RE4. When RE4 came out as more of an action game (with better controls and camera, thank goodness) I pounced, and loved it. The survival horror genre is too much for me (ughghghghghgh Silent Hill) but the more actiony it gets, the better I do. So RE4 was for me.
RE5 looks like more of the same deliciousness. Same basic controls and camera, but a new hero at the lead, and some damn scary zombies. The demo started Chris in a large village which the producers explained was about 4 times the size of the main village area from the start of RE4. By barricading himself in a building Chris was able to fend off the zombies for a while, until they started breaking through the ceiling, and then BAM one of the walls falls down and there's some huge-ass troll-guy with an axe bigger than Chris' entire body.
And I thought the chainsaw was bad. This axe dude was a beast--every time he swung the axe it took out buildings, food stands, even the other zombies around him. If the demo didn't have Chris set in God Mode he would have been killed instantly by every hit. And the thing was smart; as soon as Chris ducked into a building, the damn axe brought the entire house down. Even worse, sometimes the other zombies would grab Chris, keeping him busy until the axe took them *both* out.
Everyone was very impressed, and there was a lot of oohing and ahhing every time the axe smashed into something new. I loved every bit of it, even if there was also a slight feeling of dread in knowing just how many lives I'm going to lose when the game is finally out.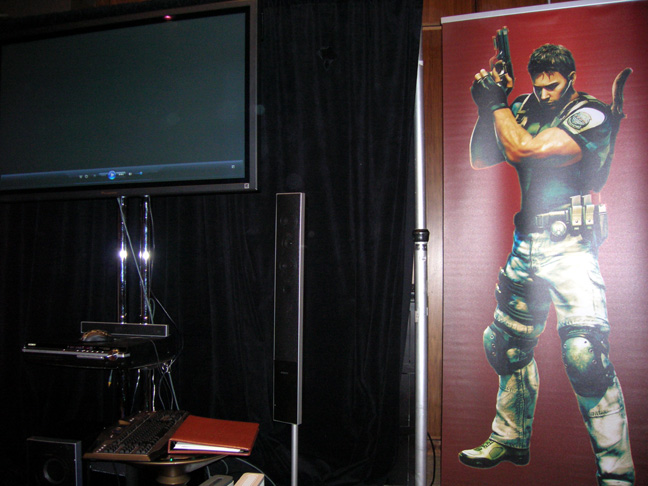 Oh Chris, you're so beefy (nom nom)
Again, I'm not really a shooting game fan, so Bionic Commando was pretty low on my radar going in. I'd never even heard of the original. But I have to say, the adaptation from 2D to 3D looked rather remarkable. You play as…well, a commando with a bionic arm, which has a grappling claw. This claw serves as the main feature of the game, and you use it to swing around Spiderman-style through cities, jungles, and wherever else. It looked really cool when others did it, and when I got to try it myself I found the swing mechanic was really intuitive. I still need time to get the hang of it, but it looks like they're putting together a neat gaming experience.
The enemy AI was pretty on, too, from what we saw. At one point the hero threw a car down on some enemies, and then they immediately hopped behind it to use as cover. It didn't help them because then the hero kicked the car on top of them, but for a minute there they were using their heads! Way to go, lackies.
On a more relevant-to-AA note, the producer for the Bionic Commando project is Ben Judd, who I mentioned before was the voice of Phoenix. He promised that if BC sold 2 million copies worldwide he'd run naked through the capital of some foreign country. Which country!? Who knows. But I might just have to preorder a copy.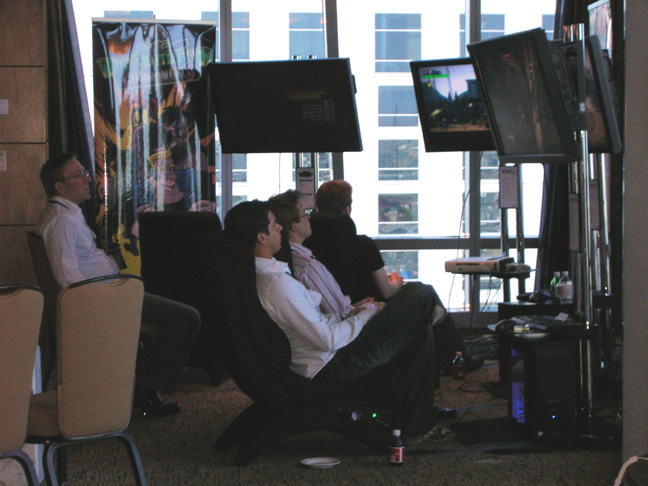 The "Commando Corner" where Shawn (in the white) spent a good deal of his time
I'm not really sure what to say about Neopets. Apparently it's a lot like Puzzle Quest, but I didn't play that either. The team was really excited about the project and insisted that just because it was a license game didn't mean they were giving less than their full effort, and it showed in the presentation. But cute furry things aren't really my forte, so I'll leave it at that.
In the Top Secret podcast, I cited Spyborgs as my main disappointment at the event. I think the word I used was "cheap." Now really, that wasn't fair of me: the game is still in a very early stage of development, and has a long way to go, so I shouldn't have been so harsh. But when you spend two days watching and playing some really impressive titles in HD, it's not easy to go to a Wii title and not be a little disappointed.
Yes, I can admit I am biased against the Wii. It's not that I don't think there are some great games for it, and when I got to try RE4 on the Wii over Anime North I was impressed with how much easier it was to control. But I completely disagree with Nintendo's stance that graphical power can and should be secondary to gameplay--it's not THAT hard to have both. Capcom's other titles at the event proved that you can still make games that are innovative, creative, AND look amazing.
Anyway, my silly bitching aside, and even accepting that Spyborgs is too early in development to properly judge, I still was not impressed. Unfortunately the Wii has a reputation for being supported mostly by mini-game collections aimed at a younger audience, and after watching the Spyborg's trailer I was hopeful that the game would do better than that. But when they showed us the demo, after 2 minutes of gameplay the game shifted to a minigame featuring two banjo-playing fish singing a song about a "2 fisted plumber" constipation relief service.
If that kind of humor appeals to you, which the developers likened to Adult Swim cartoons, chances are you'll love the game. To its credit, the game looks very imaginative in its enemy design (who doesn't love sewer alligators with jet packs?) and seems to use the Wii controls often in combat and in the minigames. Plus, co-op is always a plus. It's just not going to get me to run out and find a Wii.
Of course, of the dozen or so games we got to see, one disappointment isn't a bad stat to fling around. I encourage to read some other opinions on the game before making up your mind or anything.
The digital titles I got to play were Street Fighter II Turbo HD Remix, 1942, and Plunder. HD Remix was fun, but after playing SFIV that was all I wanted to play (even if the old sprites look great with their shiny new HD remakes). 1942 was fun but it was really only worth it with 2 players, so you could use the joint strike. My favorite of the three was Plunder.
In Plunder you get to play as little HD pirate ships that fight, alone or in teams, to capture as many towns and ports as quickly as possible. Once you capture a town it'll start creating resources for you, allowing you to upgrade your ship with speed, armor, or extra canons. I wasn't very good at first, but after a while I got the hang of it and had a lot of fun.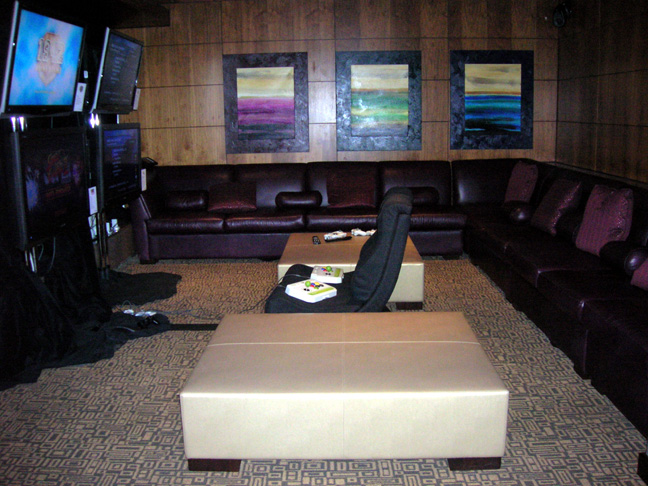 The digital room
So that was the event! I can't seem to say enough about how much I enjoyed it, but it's true. Capcom took great care of us and we got to see some really neat things. I'm looking forward to seeing how all of the games do once they're out on the market.
If you have any questions about it, feel free to ask on the Trial Minutes section of the forum~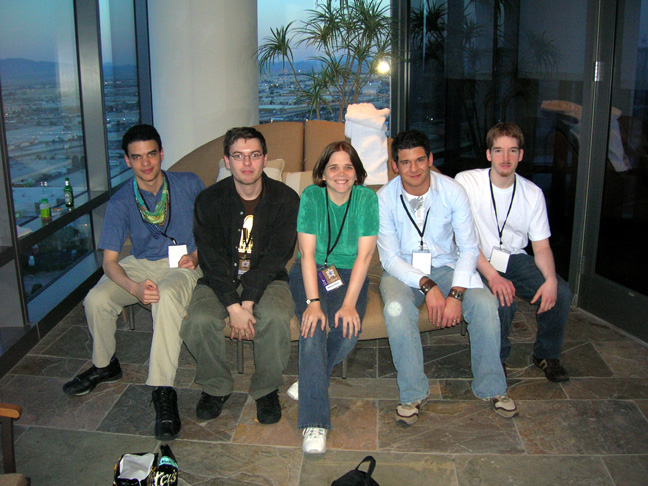 Commu~nity
(from left to right, Yuri, Travis, me, Shawn and Joe)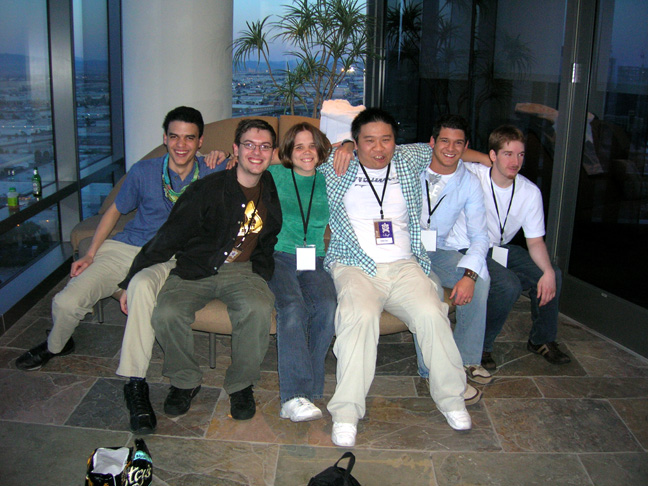 Community plus Lost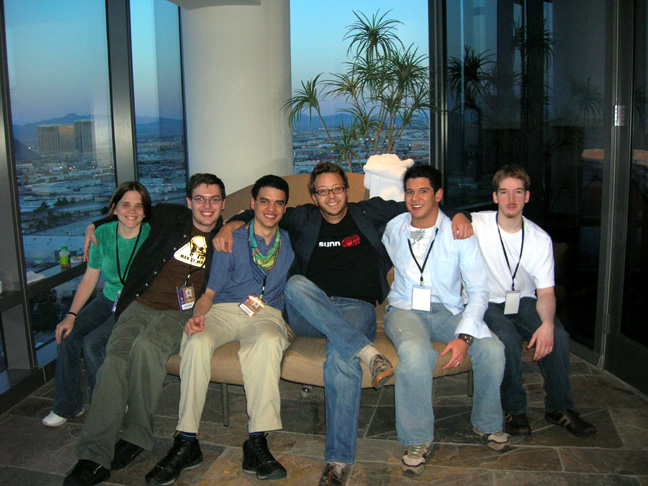 Community plus Seth!
See you next year? *wink* *nudge* *bribery* *beg*