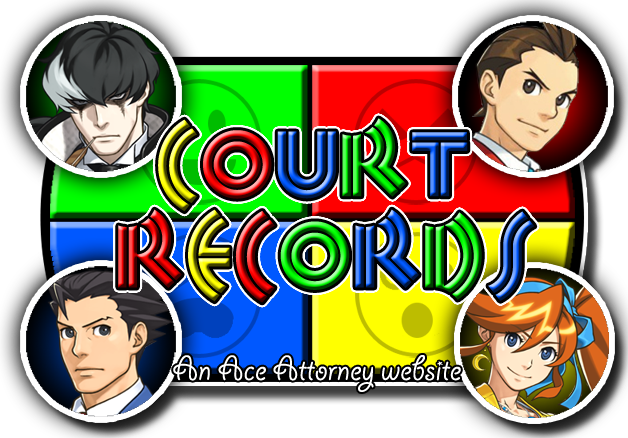 April 1st, 2015
April 1st, 2015
April 1st, 2015
Capcom TV April 1st summary
Producer Kojima showed a little bit of the first trial (set in Japan). Ryuunosuke is suspected from a murder commited in a restaurant La Quantos (La Kuwantosu -> La Gonna Eat) and there are two witnesses: the military man UZUMAKURU and the antiques dealer SONOHIGURASHI.
* ASOUGI Kazuma's headband
always
dances in the wind (even if there's no wind in the courtroom...). He also grasps his sword occassionally to show his determination.
* Ryuunosuke's eyes move around nervously, which looks great. In fact, a lot of his facial expressions look great, like the moment when he first presents a piece of evidence.
* Kojima didn't show details of the case on purpose, and he stopped after the first piece of evidence.
And then there's a bit about the escape-the-room game.
But expect the important news to hit the street on April 2nd through Famitsu and updates to the official site. And in Japanese time, that's actually just a few hours away from now (Famitsu will sell digitally from 00:00 on, so details should come in quite soon).
Reply || Read Comments
By Ash
March 31st, 2015
Dog Gyakuten Saiban: The Adventures of Ryuunosuke Inuhodo
Amazing! Capcom has announced that after much consideration, they're bringing a new spin to the world of
Ace Attorney
with
Dog Gyakuten Saiban: The Adventures of Ryuunosuke Inuhodo!
Following Ryuunosuke Inuhodo, Kazuwan Asougi, Susato Mikotowan, Iris Wantson, and Sherlock Holmes*, the game promises a new, lively take on the series.
Check out the first trailer here
, or take a gander at the
official site!
*Translator's note: "inu" means dog. "Wan" means bark. "Sherlock Holmes" means "Sherlock Holmes."
Reply || Read Comments
By Bolt Storm
March 31st, 2015
DGS: 7/9 release in Japan, limited edition confirmed
Via
Game-Nyarth
: DGS will be released on July 9th in Japan, with a standard edition retailing for 5,800 yen and a limited edition for 7,300 yen.
Thanks to L~A for the tip!
Update:
More details
(thanks to L~A for the heads up):
Quote:
?????????????
???????????????????????

?????????6????????
??????????????????

?????????????????????????????????

????????????????????????????????????????????????????
Quote:
Box art revealed.
English prosecutor Baroque Vanjiques [or something like that] revealed.

English trials feature a jury made of six people.
You can cross-examine many witnesses at once.

The prosecutor in the prologue case is Takeshi Auchi. A waiter, Satoshi Hosonaga, also appears as a witness.

There's an interview with Kojima and Takumi talking about things like their first ideas for the prosecutor's name and the like.
Reply || Read Comments
By Bolt Storm
March 31st, 2015
DGS in Famitsu: Rival Prosecutor Revealed
Famitsu's DGS article is just around the corner, and they've put up an article showing off the new rival prosecutor!
http://www.famitsu.com/news/201503/31075336.html
His name is being kept under wraps. Here's waiting for the leaks...!
Reply || Read Comments
By Bolt Storm
March 28th, 2015
DGS on Capcom TV on April 1st
No joking here: Dai Gyakuten Saiban will be featured on Capcom's Capcom TV livestream on April 1st! Producer Shintaro Kojima will show gameplay of the game's first trial, and guests from SCRAP, the company running the Dai Gyakuten Saiban escape game, will share details on that as well.
The show starts at 20:00 JST (11:00 GMT, 07:00 EDT, 04:00 PDT), and can be watched on
YouTube
or
NicoNico
.
For reference, here's the full lineup of DGS info confirmed for the next month or so:
April 1st: Capcom TV livestream featuring DGS.
April 2nd: Famitsu article with new info on DGS. Note that Famitsu usually leaks out a day or two before the sale date, so we'll likely see this before the Capcom TV broadcast.
April 25th-26th: NicoNico Chou Kaigi event. DGS will be present via a demo (same as the ones from TGS/Jump Festa/Monster Hunter Festa) and a stage show, which will be livestreamed.
Looks like the leadup to the game's release is about to begin in earnest!
Reply || Read Comments
By Bolt Storm
March 23rd, 2015
DGS info in next week's Famitsu
While this week is all quiet on the magazine front, the latest issue of Famitsu confirms that next week's (the April 2nd issue) will contain new info on DGS as part of a special on upcoming Capcom games!
Expect info from that issue to leak out about a week from now.
(Via
Hokanko
)
Reply || Read Comments
By Bolt Storm
March 20th, 2015
DGS real-life escape game PV & details
The DGS real-life escape game is announced to start on June 26 and will tour the country across 32 cities (
source
). The story is about Ryuunosuke, who is suspected of a murder commited in the London Courtroom. All evidence point to him, so it's up to the participants and Holmes to find clues within the hour and get Ryuunosuke of the hook!
See also
the promotion video
. Also: the poster art is awesome! Like the art you'd expect from the era!
Reply || Read Comments
By Ash
March 19th, 2015
DGS at NicoNico Chou Kaigi 2015!
Capcom
has announced that DGS will be present
at the NicoNico Chou Kaigi event running from April 25th to April 26th! The site promises special stage shows, new information, and playable demos, though it's not clear how much of that will apply to DGS. Additional info about the booths will be announced on March 24th, and additional info about the stage shows on April 10th. At least some of the stage shows will be livestreamed.
For reference, last time an AA game was at Chou Kaigi, it was Dual Destinies, and it brought with it
this trailer showing off the gameplay
. It was also preceded by a glut of new info about the game (Apollo's return, release date, etc.), and it kicked off the marketing that led up to the game's release in July of 2013. Here's hoping for a similar situation with DGS!
Reply || Read Comments
By Bolt Storm