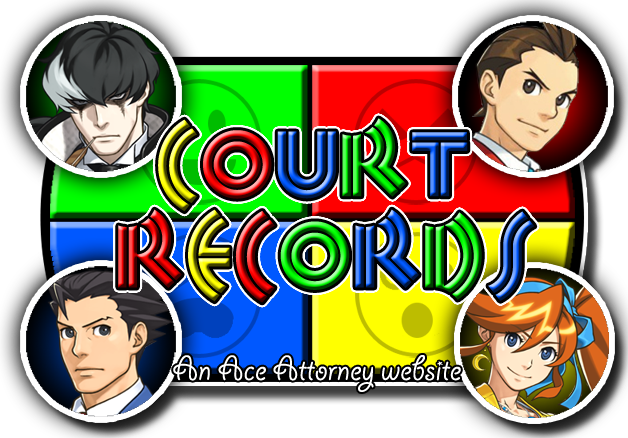 September 10th, 2014
Dai Gyakuten Saiban: Official Site Relaunched
The DGS
official site
has gotten a makeover, bringing us a better look at the info from the past few days' magazine leaks!
Hit up the link for art, screenshots, and more, including these character profiles:
Quote:
Ryuunosuke Naruhodou: The protagonist of the game. A student at one of Japan's imperial universities in its capitol, a certain case pushed him to become an attorney. In order to learn the ways of the new justice system, he takes his burning sense of justice in hand and transfers to England.

Susato Mikotoba: A young woman who works as a legal assistant supporting Ryuunosuke due to 'certain circumstances'. A progressive, foreign-mystery loving Yamato Nadeshiko.

Sherlock Holmes: The world's most famous detective. Though his skills of observation and deduction are incredible, he occasionally goes too far into the realm of speculation - a veritable "Reasoning Rampage". The meeting between this great detective and that rookie attorney will bring a grand turnabout down on England's courts.

Iris Watson: A young girl living with Holmes. Although she's only 8 years old, she holds a medical degree and is the author of the extremely popular novel series "The Adventures of Sherlock Holmes." Some say her skills of deduction surpass even Holmes'...
The site also confirms that a new trailer for the game will hit September 18th in Japan - a week from today, and just before TGS
Reply || Read Comments
By Bolt Storm
September 9th, 2014
September 3rd, 2014
Two New Challengers Appear! (Dai Gyakuten Saiban)
Via ????:
http://www.capcom.co.jp/new-gyakuten/
The official DGS site teases two new DGS characters with... just their shadows: more news will follow next week (
as announced earlier
)
Edit from Bolt:
With this, we're calling pencils down on the Pick Your Prosecutor contest until we get more info. Thanks to all that entered! If these characters have nothing to do with the prosecution, we'll reopen then.
Reply || Read Comments
By Ash
August 29th, 2014
August 28th, 2014
Dengeki interview with Eshiro on iOS DD and GS in general
http://dengekionline.com/elem/000/000/914/914785/
It's a very long interview, so just some bullet points instead of a full translation (too lazy to translate everything...):
- A lot of fans reacted positive to Apollo's role in the game
- Some people thought the game was too easy and they'll keep that in mind for future games
- Eshiro as overwhelmed when Apollo ranked first in the NicoNico GS character election (dates from August 2013). Also glad that characters like Blackquill and Fulbright ranked in high.
- GS5 was originally planned to be a 3DS-only release, but because apps were becoming more important, they wanted to know whether it would be possible to have an app version. They made one scene, which was a bit troublesome, but they decided that this could work. While 3DS and (touch screen) smartphones are relatively 'alike', they had to rethink the user interface completely because the 3DS has two screens.
- Asked by the interviewer whether the character models were redone for iOS because they looked better, Eshiro said no. 3DS/iPhone all have different screens with their own characteristics, so they come out differently.
- The complete first chapter of iOS DD is free, because they did the same with iOS GS123. It's a lot of gameplay, but the precedent had already been set and the ending of that chapter does work as a hook for the rest of the game.
- Prices were based on regular App Store prices and internal discussion.
- Eshiro likes case 2 (he likes the creepy and mysterious atmosphere) and case 3.
- Yamazaki likes the last case
- Eshiro knows a lot of fans want an anime, but such a project costs a lot of time, and they just never managed to get the timing right for something like that. And just an anime would be boring, so he would like to do something special with it if they were to produce one.
- Personally, Eshiro would want to do a late night TV drama series, because he thinks the format fits GS well.
- The interviewer suggests a GS concert, to which Eshiro said he would think about it (laugh)
- Yamazaki would like to do something like a real-life game (i.e. escape the room games).
- GS5 is not the end of the GS series, DGS is coming and they'll want to do even more after that.
Reply || Read Comments
By Ash
August 20th, 2014
Dai Gyakuten Saiban to appear in TGS 2014
http://www.capcom.co.jp/tgs2014/game_dgs.html
TGS 2014 (September 18 ~ 21 (20-21 for public)
- DGS booth consists of a theater room with special footage (including in-game footage)
- Visitors of the theater receive a DGS postcard set
- Hints at the possibility of one of those classic TGS GS trailers...
+
http://www.capcom.co.jp/new-gyakuten/
New information will be revealed on the official DGS site on September 11 (Thursday, so together with Famitsu, as always probably).
Reply || Read Comments
By Ash
August 14th, 2014
August 7th, 2014
Gyakuten Saiban 5 released on iOS
Well, this came out of nowhere fast! The Japanese version of
Dual Destinies
,
Gyakuten Saiban 5
, has just been released on iOS in Japan!
https://itunes.apple.com/jp/app/ni-zhuan-cai-pan5/id877880297?mt=8
Additional screenshots
here
.
The game is playable on iPhone 4S, 5, 5S, and 5C, iPad 2 or newer, and iTouch 5th generation or newer. It requires iOS6.1 to iOS7.1. The game's first episode is available free, with the remainder of the game a paid purchase. The original game's DLC case, "Turnabout Reclaimed", is also available, as are the bonus costumes and (JP-only) quizzes.
The first episode is free, while episodes 2-5 can be purchased for 2000 yen as a pack, or for 600 yen each. The DLC episode is also available for 600 yen.
Thanks to NeoGAF user daydreaming for the tip!
Update:
The game is
confirmed for release
in North America and Europe as well "soon". (Thanks JapaneseGIRL!)
Reply || Read Comments
By Bolt Storm
August 3rd, 2014
Cosmosky Orchestra to perform Dual Destinies music
The Cosmosky Orchestra, a Japanese orchestra dedicated to live performances of videogame music, has announced that as part of their sixth regular concert, they will be performing music from
Dual Destinies!
The concert takes place
December 7th at Kanagawa Kenmin Hall (note that since DD was just announced, it's not listed on the page yet). Examples of their work can be seen
on their YouTube channel
. Here's hoping they provide a recording of the show for those of us who can't make it!
Reply || Read Comments
By Bolt Storm
August 1st, 2014
Cing ex-VP talks studio closure, the future of Kyle Hyde
GoNintendo reports on a NintendOn (Italian Nintendo fansite) interview with Rika Suzuki, ex-Vice President of videogame developer Cing. Suzuki was also a huge part in the development of both Kyle Hyde games, having designed and written both Hotel Dusk and Last Window.
She has a lot of interesting things to say in this interview, but GoNintendo takes out the most important bits, and I underline them for further emphasis:
Quote:
NintendOn: When you realized Cing was going to close, what was your feeling about the future as a game developer?

Suzuki: Closing Cing meant disbanding the team which had been producing the games together. And disbanding the team meant outright loss of various know-how and skills which we had cultivated in developing games, which was extremely disappointing, regrettable and sad.

However, even when I got to know that Cing would be closed, my passion for game production never burnt out. Of course, I knew that it would be not easy to start anew and create a new team from scratch, but I had many games that I wanted to produce and deliver to game players.

NintendOn: Have you ever thought of making another game about Kyle Hyde?

Suzuki: Kyle Hyde's story has not ended for myself, yet. However, we gave the right concerning Kyle Hyde to Nintendo as a publisher so I cannot make a new game featuring Kile without any permission.

Having said that, I hope that I will be able to produce his story, which is still going on in myself, in some different way to be delivered to players.
This confirms what we all suspected: Nintendo has the rights to Kyle Hyde, and could very well do a new game, and Suzuki herself would like to produce it, since, as she says, "
Kyle Hyde's story has not ended for myself, yet
"
Commence Operation Hydefall? I say yes.
Source
Screw it, I'm putting this on the front page, Cing and Kyle deserve it.
Reply || Read Comments
By DeMatador