June 16th, 2016
Interview w/ Eshiro+Yamazaki: loc. challenges, still no DGS
Gamespot
recently sat down with Eshiro and Yamazaki
to chat about
Spirit of Justice
and localizing the series. While you can get the whole interview at the link, a few highlights:
Quote:
The localizations of the Phoenix Wright games take place in a vague "Japanamerica," and many cases are steeped in Japanese culture. Some of these themes may not translate well for some players. What are the challenges of localizing this series?

Eshiro: First of all, the game is made in Japan, so we make it in Japanese and the staff doesn't think about the localization at all. Once you start thinking about it, then you have to consider so many things, and you start locking yourself into a little space, right? To keep it so that they can make as creative of a product as possible, as creative of a story as possible, we don't think about the localization, we just make it as interesting as we can. When localization happens, I will sit down with [the team] and say, okay, this part should probably be localized because I'm not sure a lot of people outside of Japan would understand it. And he might say, "Well, let's keep it because it's important to the story or this character." Through this back and forth we decide the bigger picture of what to keep and what not to keep Japanese in that sense.

I based some of my decisions on the times. For example, nowadays people [in the West] know what ramen is but 10 years ago people didn't know what ramen was in the same way. I do go through and adjust, fine-tune what needs localizing and what doesn't based on what people know at that time.
Quote:
Will we ever get a localized version of Daigyakuten Saiban?

Eshiro: Unfortunately there's a number of circumstances... We absolutely do want to bring it to the West, but unfortunately due to these circumstances right now... I'm really really sorry! Nowadays on the Internet lots of fans are directly asking us, "Where's Daigyakuten Saiban?" On livestreams, even in the Japanese ones, people from the West will write in and ask where it is. Every time we say, we're sorry! Certain circumstances are kind of getting in the way.
It's good to hear they're aware of the demand for DGS, but unfortunately it doesn't sound like anything's in the works.
Reply || Read Comments
By Bolt Storm
June 15th, 2016
Ace Attorney 6: Sengoku Basara costume DLC, 3DS theme
AA6 has been out for about a week now, and that means it's time for tie-ins! Via
Gamer.ne
:
First off, an Ace Attorney 6 3DS theme is available as of today:
The theme features Khura'in-inspired visuals and the main characters of the game.
Next up - and certainly more amusingly - is Sengoku Basara-inspired costumes for the WAA trio! References to this were found in the game data by TCRF and others, but this is our first good look at:
Phoenix as Date Masamune
Apollo as Sanada Yukimura
Athena as Tokugawa Ieyasu
These costumes will be released on June 23rd for 143 yen (excluding tax.)
Reply || Read Comments
By Bolt Storm
June 15th, 2016
June 14th, 2016
June 13th, 2016
Come watch E3 with us
This is a bit out of the ordinary, but oh well. E3 week is like that!
If you're looking for somewhere to chat E3 that's a little less hectic than a Twitch or YouTube chat, we'll be mirroring the streams for the big conferences (Sony, Microsoft, Nintendo's initial Zelda stream) over on Cytube (
http://cytube.court-records.net/r/cr/
). We may throw on some other E3-related streams as well over the next day or two!
Is this related to Ace Attorney? No, basically not. But it is a fun way to spend a few hours with other community members!
A timetable for E3 events can be found
here (credit Cheesemeister3k)
. The first major conference, Microsoft, is in about 13 hours from the time of this post.
Reply || Read Comments
By Bolt Storm
June 7th, 2016
Ace Attorney: Spirit of Justice Launches in Japan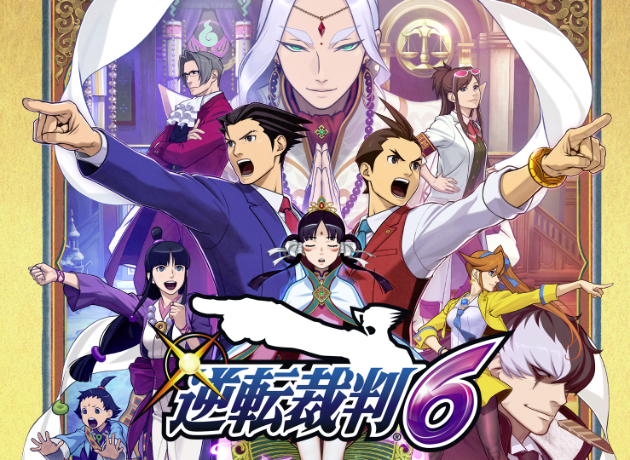 Three years ago, the - if not impossible, at least seemingly pretty improbable for a while there - happened: the mainline Ace Attorney series returned.
Ace Attorney: Dual Destinies
was the series' first attempt at moving forward in six years, bringing together Phoenix, Apollo, and newcomer Athena in a new story and on a new platform. But not everyone made it along for the ride. Didn't there used to be a spirit medium out there?, a few of us asked. Or a snackoo-loving detective?
Today, their stories - and the rest of the crew's - continue at last, after a brief detour into Victorian London.
Phoenix Wright: Ace Attorney - Spirit of Justice
- or more simply,
Gyakuten Saiban 6
- releases in Japan just under twelve hours from the time of this post. The Wright Anything Agency trio returns as the stage splits between the mystical kingdom of Khura'in and the somewhat-more-ordinary courts of Japanifornia. Joining them are a bevy of familiar and unfamiliar faces - Maya Fey and Ema Skye return to support our heroes, while newcomers Rayfa Padma Khura'in and Nayuta Sadmadhi stand in their way.
As always, the Court-Records forums are open for chatting anything and everything AA6 - with spoilers clearly marked, so those of us who have to wait for the English release can tread safely. The traditional
"I just want to know one thing..." Q&A thread
is open, as are general discussion threads for each case - and of course, anything else goes as well. Who knows? You might even find a spot to talk about the more musical portions of the game.
But regardless, dust off your attorney's badges and grab your magatamas, folks. Court is back in session.
Reply || Read Comments
By Bolt Storm
June 4th, 2016
June 1st, 2016
Announcing the Court-Records 3.0 Beta!
Court-Records has been running in its current form - or something close to it - for nearly eight years now, and that means we're well overdue for a change-up! So it's with great pleasure and only slight amounts of panic that we announce an open beta for the next version of Court-Records!
Before you all go flying onto it, I want to emphasize the
beta
nature of the site. You'll find some pages are totally unstyled, content is missing just about everywhere, and probably a few bugs. The purpose of opening it now is both to let folks get a look at what we've been working at and to get feedback on what still needs work.
To that end, here's some of the things you should give a try:
First of all, log in! You should still be able to log in with your old account, but now it can be used for fanwork uploading as well as forum usage.
Add fanfiction, fanart, or remixes to the fanworks pages! It should go without saying, but please only upload works you've created.
Give the forums a test drive! That said, be warned that these are temporary forums and the posts there will be archived or deleted once we move into the final version of the site. For serious discussion (such as post-release AA6 talk) stick to the current forums.
Try to break things! If you try to use part of the site and it doesn't work or flat-out spits up an error, let us know in the bug thread here.
Let us know if there's any big features or sections you feel are missing! Again, we're well aware the content needs to be added (why do you think we've been calling for copywriters?) but if you've got an idea for something AA-related the site could do that isn't covered, sound off in the suggestion thread here!
Let us know what you like and don't like! Again, several parts of the site are still work-in-progress - for example, the character index page - but if something really catches your eye for better or for worse, tell us in the general feedback thread!
Again, this is an open beta, and until work on the new site is completed, we'll be sticking to posting news and updating the current site. So if you want to go chat AA6 next week, you're better off on the original forums! But nonetheless, we hope everyone enjoys poking around the new site and giving feedback.
Thanks for your time, and here's to many more years of the site!
Reply || Read Comments
By Bolt Storm
June 1st, 2016
Spirit of Justice in Famitsu 6/1: Review scores, Blackquill
Update:
Official profiles added on the AA6 site
.
Per
the other day's announcement
, this week's Famitsu will feature an article on Blackquill's appearance in AA6 (alongside detailing some of that Apollo vs. Phoenix face-off.) While we'll have to wait for full scans in the morning for that, Famitsu's review for the game has leaked early; their reviewers gave it 8/9/9/8, for a total of 34/40.
The actual review text from Gamekana
:
Quote:
???????30????

??????????????????????????????????????????????????????????????????8??

???????????????????????????????????????????????????????????????????????????????????????????????????9??

???????????????????????????????????????????????????????????????????????????????????????????????????????9??

????????????????????????????????????????????????????????????????????????????????????8??
Quote:
Play time: about 30 hours.

-Because the Kingdom of Kurha'in where attorneys are not needed is the main setting, there's a strong occult vibe to the game. That might be a bit divisive. (8 points)

-Though the Divination Seance, where you see the victim's last moments and look for contradictions in the interpretation, is stretching things a bit far, it's a fresh system for a logic game. And I was satisfied with the ending, where all the parts of the series came together. (9 points)

-Seeing how all the characters - like Maya - have grown and changed was really heartening. I wound up investigating just about everything just to see more dialogue! Each episode lays plenty of breadcrumbs, and I was really surprised by how it all came together in the end. (9 points)

-It's as fun a logic series as ever, but occasionally the plot developments got a little too out there, and I wound up thinking "what the!?" I didn't feel the game was very fresh, but it's as easy to enjoy as ever. (8 points)
We'll update this post with scans in the morning!
A dispute over a certain piece of evidence leads Apollo and Athena to face off with Phoenix in court. Meanwhile, Blackquill is called as a witness in a trial (note the magazine doesn't say these two incidents are one and the same) and, finding the spectator's seats too "boring", soon hops behind the defense's desk to act as support.
Meanwhile, in the DLC episode Turnabout Across Time, Larry introduces Phoenix to his bride-to-be, Shizuku Ootsubu - a maid working in the Haguruma household. Shizuku claims that just after she was married, she was attacked and nearly killed, only to travel back in time at the critical moment; she now finds herself the suspect instead! She also notes that Larry's got his head screwed on backwards as usual - she's getting married to a man named Raito, the blue-haired mechanic in the second set of scans. Phoenix and Maya meet both Raito and Edgeworth when they head to the scene to investigate, and soon find themselves going up against Edgeworth in court.
Reply || Read Comments
By Bolt Storm
May 30th, 2016
Famitsu preview TeamApollo VS TeamNick
https://twitter.com/famitsu/status/737210781607940096
The bigger headlines say: 'start of the heated discussion of Apollo vs Phoenix', 'A battle about ownership of evidence', 'a tag-team of Apollo and Athena' and 'Prosecutor Blackquill as the assistent of the defense'.
Update:
Famitsu's reviewers give the game 8/9/9/8, for 34/40... but nobody seems to have uploaded the actual text of the reviews yet.

Reply || Read Comments
By Ash