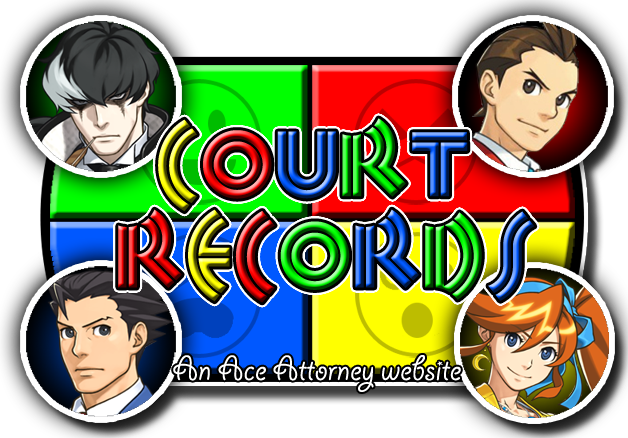 April 23rd, 2014
April 22nd, 2014
New Gyakuten Saiban: Dai Gyakuten Saiban (Meiji era, Takumi)
You won't believe it, but the next Gyakuten Saiban game is in this week's issue of Famitsu magazine. No detail is available at the moment, except the title : Dai Gyakuten Saiban : Naruhodou Ryuunosuke no Bouken. Apparently, game takes place during the... Meiji Era. For those wondering : it IS Shu Takumi's mysterious new project, teased during the last JP Nintendo Direct (there's even an interview in the mag). It's for the Nintendo 3DS.
Post will be updated as new details come in... In the mean time, here's a 1st scan :
Quote:
Source
(via
NeoGAF
), and
whoever's taking care of the CR Twitter right now
Ash :p
Reply || Read Comments
By L~A
April 16th, 2014
Ace Attorney 123: Wright Selection released in Japan
A heads up to any of our Japanese 3DS-carrying members: the
Wright Selection
is now available on the Japanese eShop for 3,694 yen (~$36) plus tax and will be available physically in stores in the morning for 3,990 yen (plus tax)!
As a reminder, the game includes both English and Japanese text, though unfortunately no Western release has been announced.
Reply || Read Comments
By Bolt Storm
April 9th, 2014
Celebrate the Bright Age of the Law with AAO!
Hey everyone! In case you haven't heard of it before, Ace Attorney Online is an easy-to-use site where you can make your own Ace Attorney fancases. It's exclusively online, and requires no downloads. It's been out there for a while now, so there are already
lots of completed cases you can play
. (Of course, you can also use the AAO engine to make
things
besides
trials
.)
Much of AAO's content has been made with the "version 5" editor. However, a few days ago,
AAOv6 entered pre-release
, and to celebrate Unas (the head of AAO) is hosting a "Bright Age of the Law" competition! AAOv6 has been programmed from the ground up and features more flexibility and features than the previous engine, such as custom foregrounds, scrolling courtroom shots, and multiple on-screen characters.
If you're interested in the AAOv6 editor, you can join the
case competition
, and try out AAOv6 firsthand. If you win, your case will become the first featured case made in AAOv6!
If you're more visually inclined, you can enter the
sprite competition
. While you can easily enter custom sprites for your own use in the AAO editor, the winning sprite set of the competition will be added as a default sprite set in the editor, like the canon character sprites.
Finally, if you don't really want to make your own thing but want to help others make theirs, you can write a tutorial for the
tutorial competition
.
(The winners of the three competitions will also each get a snazzy mug and custom forum title.)
AAO is free to join and use, so give it a try! The main Bright Age of the Law page (which includes a trailer that shows off the AAOv6 engine) can be found
here
.
Reply || Read Comments
By Bad Player
April 8th, 2014
April 1st, 2014
March 27th, 2014
Professor Layton vs. Phoenix Wright: Ace Attorney: EU Launch
Three and a half years, give or take a bit. That's how long it's been since
Professor Layton vs. Phoenix Wright: Ace Attorney
was first revealed in a blaze of glory (and animated trailer). Since then there's been a second
Ace Attorney Investigations
game released, a fifth
Ace Attorney
game announced, developed, and released internationally, and three Layton games released internationally. Busy times for both series, but for those of us who can't speak Japanese (and who have a European 3DS), the wait is over.
Professor Layton vs. Ace Attorney
launches today in Europe with the full power of the NoE publishing machine behind it, bringing us a Multi-6, physical release. (Sadly, American AA fans will have to wait for later this year.)
As always, the C-R forums are open for discussion of the game. We'd also like to take the opportunity to reach out to the community and ask for some help building a PLvsPW section for the site. We'd love to hear about localized names (not just English ones!) and their associated puns in
this topic over here
, and if anyone feels up to the challenge of writing chapter summaries for our Cases section, drop a post over
here
. Lastly, since the game is somewhat more open than a traditional AA game, we'd love to host any walkthroughs people make; reach out to us through e-mail (
courtrecord@gmail.com
- no, there's no 's') or post on the forums to let us know.
Finally, PLvsPW graphics will be added to the site slowly over the coming weeks. If you have a 3DS capture card and would like to help out, again - let us know by sending an e-mail or posting in
this thread
(which already has some graphics for early parts of the game.) And maybe more importantly - if you can record (ideally via line-in audio, not just a mic) voice clips for the characters (think "Objection!" shouts) in any language, that'd be fantastic!
So dust off your top hats and pick up your picarats, folks. A very special court is now in session.
Update:
the game is now live on the European eShop!
Reply || Read Comments
By Bolt Storm
March 24th, 2014
March 19th, 2014
March 18th, 2014