February 18th, 2017
Last call for OC Contest votes!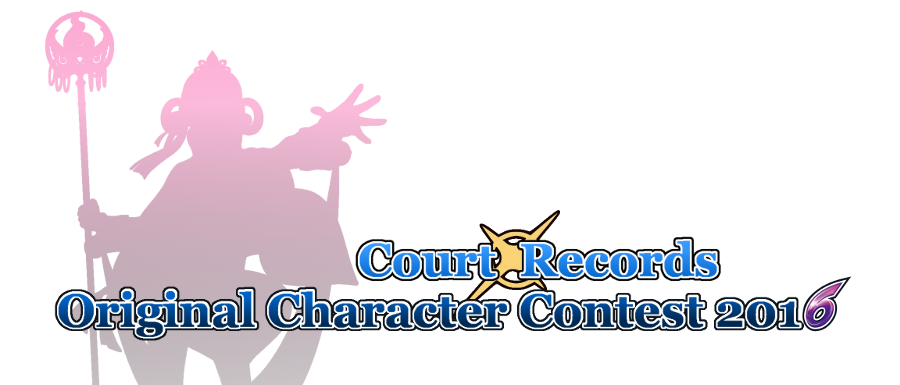 One last reminder:
voting for the Court-Records Original Character Contest 2016 ends tomorrow, February 19th, at 11:59 PM Pacific Time!
Once again, here are the voting links:
Fanart
Sprites
Fanfiction
As always, if you encounter any problems, please let us know in the thread below, by sending a mail to courtrecord [at] gmail [dot] com, or by contacting us on Twitter/Tumblr/Discord.
Thanks to everyone who's already voted!
Reply || Read Comments
By Bolt Storm
February 14th, 2017
Takumi's Thanks Tweets for Valentine's Day gifts
Takumi thanked all the people who sent Valentine presents to the characters and the development team today on Twitter (
starting with his tweet
) Regarding DGS2, the message is simply that he's still working hard on it. Below is a translation of today's tweets (which were tweeted on February 15th JST, by the way).
Quote:
Good evening, everyone. ...It's so late now, "good evening" is really the only thing I can say, but as today is that one special Valentine's Day... oh no, that's yesterday already. Takumi here, who's been busy lately, being chased by days filled with grand turnabouts.

But now some words of thank. We got a lot of thoughtful presents for our Ryunosuke, Kazuma, Mr. Grim Reaper, that one great detective and even us, the development team. We're really grateful! As the creators, we're really happy with them.

By the way, grandson Ryuichi (Phoenix) and that Mr. Red Rival were not forgotten either. And like last year, some of the "advanced" characters like that orange chief of police and your "pal" police detective also got some fancy presents. It's amazing. Nuri and the rest of the team all got really excited about it.

As for the funny story this year, we have "For Juryman 3 of Episode 3". Who? Oooh, the guy with the knife. When you suddenly get hit from an unexpected place, you get a funny sense of pleasure as the creator. Oh, that guy. I see, I see.

Lately, I feel that everything in this world can be categorized into either "pressure" or "everything else". And then there's "good pressure" and "bad pressure"....?But today, I was given a lot of positive pressure that'll serve as great momentum, so it became a great day because of all of you.

Finally, once again my thanks to you. I am reallly grateful for your continued support. I hope that next time, I can tell you that Dai Gyakuten Saiban 2 is finished... Starting tomorow, I'll ride on this positive wave of pressure and concentrate with everything I have on the development. Good night, everyone!
Reply || Read Comments
By Ash
February 5th, 2017
Gyakuten Saiban Series Encyclopedia site
http://kouryaku.dengeki.com/gyakutentaizen/
Dengeki's website for their upcoming "15th Anniversary Gyakuten Saiban Series Encyclopedia 2001-2016" (AKA Gyakuten Taizen 2001 - 2016) has been opened this week. The book was announced at the 15th Anniversary Special Court event, and will contain detailed write-ups on all the cases of all of Capcom's Ace Attorney games*. Each case is explained through a timeline, detailing all the events leading up to, and after the murders, the culprits etc. The book will also contain lists of all the characters and evidence that have appeared in the games. Six interviews with the creators revealing untold tales about the games, one of which with Takumii, are also included in the book.
*Six main titles + Rise from the Ashes, two Ace Attorney Investigations titles and DGS. The website notes that the DLC case of AA6 however will not be included. The website also makes a special note that this book will still keep certain details secret regarding the final episodes of both DGS and AA6.
Cover art can be found on the official Japanese Ace Attorney franchise website:
http://www.capcom.co.jp/game/content/gy ... books/1564
Reply || Read Comments
By Ash
February 4th, 2017
The Court-Records OC Contest 2016: Voting Begins!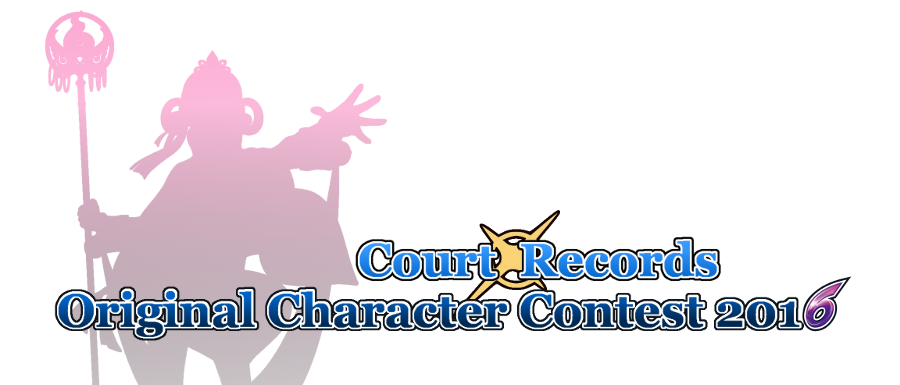 Sorry to keep you waiting! The entries have been tallied, the site has been updated, and it's time to begin:
voting for the Court-Records Original Character Contest 2016 is now open!
As always, there are three categories:
Fanart, for those of us who can draw a straight line
Sprites, for those of us who prefer to create things out of many tiny blocks
Fanfiction, for those of us who remember back in the days when not everything was "live video" or "the youtubes", we used to have text on the internet you young whippersnappers
It goes without saying, but we encourage everyone to vote in each category! Voting will be running for
a bit over two full weeks
- through
February 19th, 2017
.
If you encounter any problems, please let us know in the thread below, by sending a mail to courtrecord [at] gmail [dot] com, or by contacting us on Twitter/Tumblr/Discord.
Best of luck to all the participants, and I hope you all enjoy this year's submissions!
Reply || Read Comments
By Bolt Storm
January 31st, 2017
January 27th, 2017
Court-Records turns 11! (Also, OC Contest deadline soon!)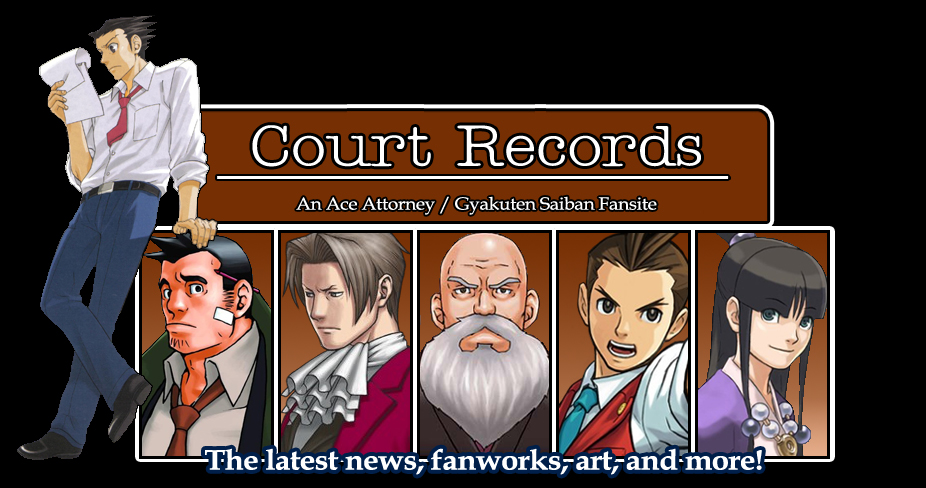 It seems like it wasn't that long ago that
we were celebrating ten years,
but here we are - January 27th, 2017 marks 11 years since Court-Records opened its doors!
I don't think Croik could've imagined this site would still be kicking more than a decade later when she opened it up, nor that the Ace Attorney series would grow from a niche trilogy of Japanese adventure games to almost a dozen titles, an anime, a film, concerts, plays, musicals, manga...
But there is one thing that's stayed (relatively) constant throughout the years, and that's the CR Original Character Contest!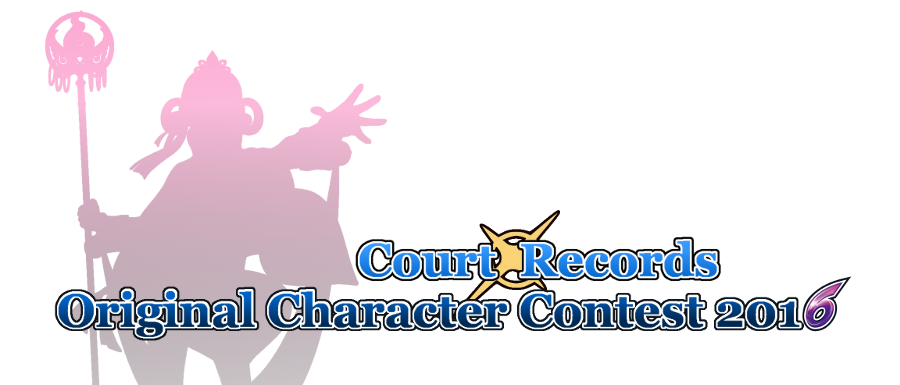 This Sunday, January 29th, is the final day you can enter.
As a reminder, you can see the full details for the contest
over here
. If you're having trouble registering for the beta site or otherwise posting your entry, either drop a comment in this thread, send us a mail at courtrecord at gmail, or send us a Twitter mention or Tumblr ask.
Best of luck, and thanks again for sticking around this funny little legal corner of the web!
Reply || Read Comments
By Bolt Storm
January 24th, 2017
Dai Gyakuten Saiban 2 in Famitsu 1/26
This was expected given the official site's planned update date, but Famitsu has made it official -
DGS2 will be featured in this week's issue
. Pictured in the preview above is a new piece of background art that seems to depict a certain tower that was under construction in DGS1...
The article promises new information, including a reference to a certain "cursed room for rent" (most likely Souseki's from DGS1-4 going by the pair of DGS1 screenshots provided). Two editors from Famitsu will also be providing their "joint reasoning" about what may happen in the game (e.g. speculation).
Update:
Famitsu leaks are out (though not scans). It sounds like there's not a ton of news in the issue, but:
Takumi is the game's director (of course) and Eshiro is the producer.
The story will again take place in both England and Japan.
The World's Fair mentioned in DGS1 will play a key part in the story, as well as the aforementioned "cursed room for rent" and the scene of Susato visiting a grave seen in the trailers.
The mysteries from the first game will be resolved as well as new plot threads.
Development is at about 35%.
Update 2:
Full scans below - be warned, they're huge:
The fulls scans show screens of Ryuunosuke, Susato, Holmes, and Gregson investigating an apartment where a case took place. Going by the decor, it appears to belong to the blonde-wigged actor who made a cameo in DGS1-4. The scans also allude to a letter from Susato to Ryuunosuke discussing a certain case that she had been hiding from him - and a new case that the letter sets off.
Update 3:
Official art of Ryuunosuke and official summary from the DGS2 site:
Summary wrote:
The end of the 19th century. The last and greatest World's Fair of the 19th century is due to open in the English capital, London. But beneath the surface of this symbol of industry, a shadowy web of connections beckons another case. A tremendous story linking Japan and England once again begins to move. The curtain rises on the second act of Ryuunosuke Naruhodou's grand courtroom drama!
[
The Court-Records Original Character Contest is taking entries until the 29th!
]
Reply || Read Comments
By Bolt Storm
January 22nd, 2017
January 22nd, 2017
Ace Attorney 15th Anniversary Event Summary
Well, there may not have been a ton of game announcements at last night's 15th anniversary special court event, but we can at least run down what
was
there, eh?
(The below is compiled from reports by @
hoso_boso
, Dengeki, and elsewhere.)
The show itself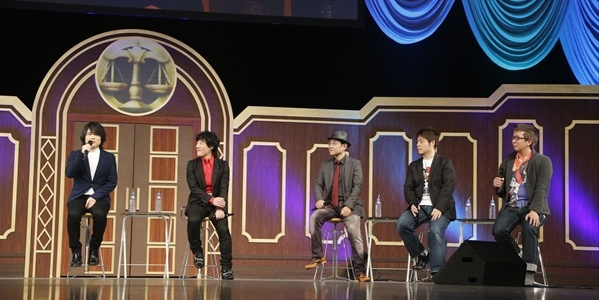 The afternoon show started at 1 PM Tokyo time, with an evening show later that day. Before things got underway, visitors had the chance to check out (and purchase) all sorts of memorabilia and merchandise, which we'll get to below.
The meat of the show was a series of "talk corners" dedicated to AA1-3, AA4-6, Investigations, and DGS. Directors Takumi and Yamazaki, producer Eshiro, and the main cast of AA6/DGS/the AAI stage play were present. Live skits were performed, jokes were made, "Guitar's Serendade"s were briefly sung, and a merry time was had by all.
Once the talk corners were through, the voice cast divided into AA, AAI, and DGS teams for a live quiz show, with games like captioning scenes from the series or trying to draw the judge. Team AAI won and will be drawn by series artist Tatsuro Iwamoto as their prize (the portraits are due to be put up sometime in the coming days.)
Once the cast performances were done, Noriyuki Iwadare took the stage with his Justice Super Band to perform a few AA songs live. ("Don't worry," he said, "Detective Fulbright is one of my favorite characters.")
Announcements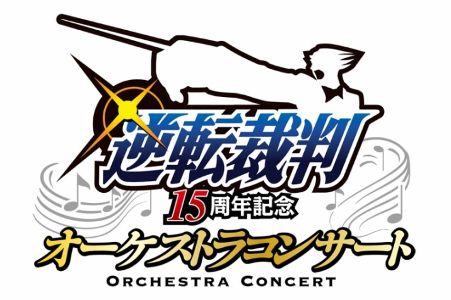 Several non-game-related announcements were made, although most of them are limited to Japan:
The AAI stage play, Turnabout Teleportation, will likely get another performance run, though nothing is set in stone yet.
The Ace Attorney Encyclopedia 2001-2016 will be released 3/21. At 336 pages, it will cover every case in the series (so watch out for spoilers!)
A number of AA-related Japanese collaborations were announced, such as AA costumes and weapons in Monster Hunter Explore until February 1st.
A 15th anniversary concert will be held May 6th. This won't be a repeat of past performances, but rather a new setlist including music from AA5 and beyond.
Merchandise (where the real money from the movieseries is made)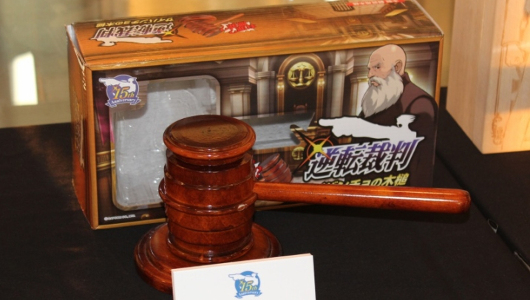 There was a whole bunch of AA-related goodies on display and available for purchase at the event. We're actually going to defer to
hoso_boso's writeup
here, as he covers most of the items available for purchase.
One thing of note:
Ace Attorney luggage is now available for pre-order at e-Capcom.
Yes, you read that right.
That said, there were three other small things announced that attendees couldn't actually purchase yet:
Ace Attorney wine and sake
,
an Apollo Justice plushie
, and (pictured above) the judge's gavel!
Dai Gyakuten Saiban 2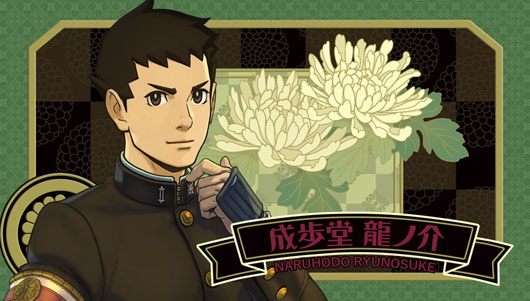 DGS2 made an appearance in two ways at the show: first, Takumi showed off a brief gameplay clip featuring Ryuunosuke, Holmes, and Iris. It seems that since the events of DGS1-5, Ryuunosuke has been barred from standing in court, but all involved were careful to avoid divulging much in the way of story details. Voice recording for the game is still in progress, with Ryuunosuke's VA Hiro Shimono being the only one finished.
Second, a new trailer for DGS2 was shown to wrap things up, confirming the game as a 3DS release (not Switch) and featuring Ryuunosuke and Holmes deducing the meaning of the game's logo. At the very end, a mysterious silhouette made an appearance, and the crowd went wild... The trailer is planned to go public along with the game's official site later today.
In closing... it may not have been quite such a great show for those of us hoping for game news (or announcements relevant to the West in general), but it sounds like it was a great experience for everyone who got to attend. Here's to 15 years of Ace Attorney!
[
The Court-Records Original Character Contest is taking entries until the 29th!
]
Reply || Read Comments
By Bolt Storm
January 22nd, 2017
Dai Gyakuten Saiban 2: 3DS only, new trailer shown
The first showing of the 15th anniversary event is over, and news is trickling out on Twitter!
While it sounds like there was no new game announcements, DGS2 was shown off with a new trailer and confirmed to be for the 3DS only.
We'll keep you posted with more info as it comes!
A few other things from the event:
-The "Ace Attorney Complete Works 2001-2016" will be released 3/21. 334 pages.
-A new AA 15th anniversary concert will be held on May 6th.
-The DGS2 trailer ends with a mysterious silhouette. Twitter buzz says it's a certain red-headbanded defense attorney...
Reply || Read Comments
By Bolt Storm